Scout
USA High Performance Torque Sensing 27.5+ Hardtail
The Scout signifies our first completely designed, engineered, and built in the USA hardtail. Featuring a highly intelligent torque sensor built into the motor, it monitors your input thousands of time per second to multiply your power to the rear wheel. There is not a more seamless experience and you will feel like you have superhuman capabilities! With up to 2000W of power, a throttle option, excellent geometry and top notch components, this a high performance e-bike at a bargain price!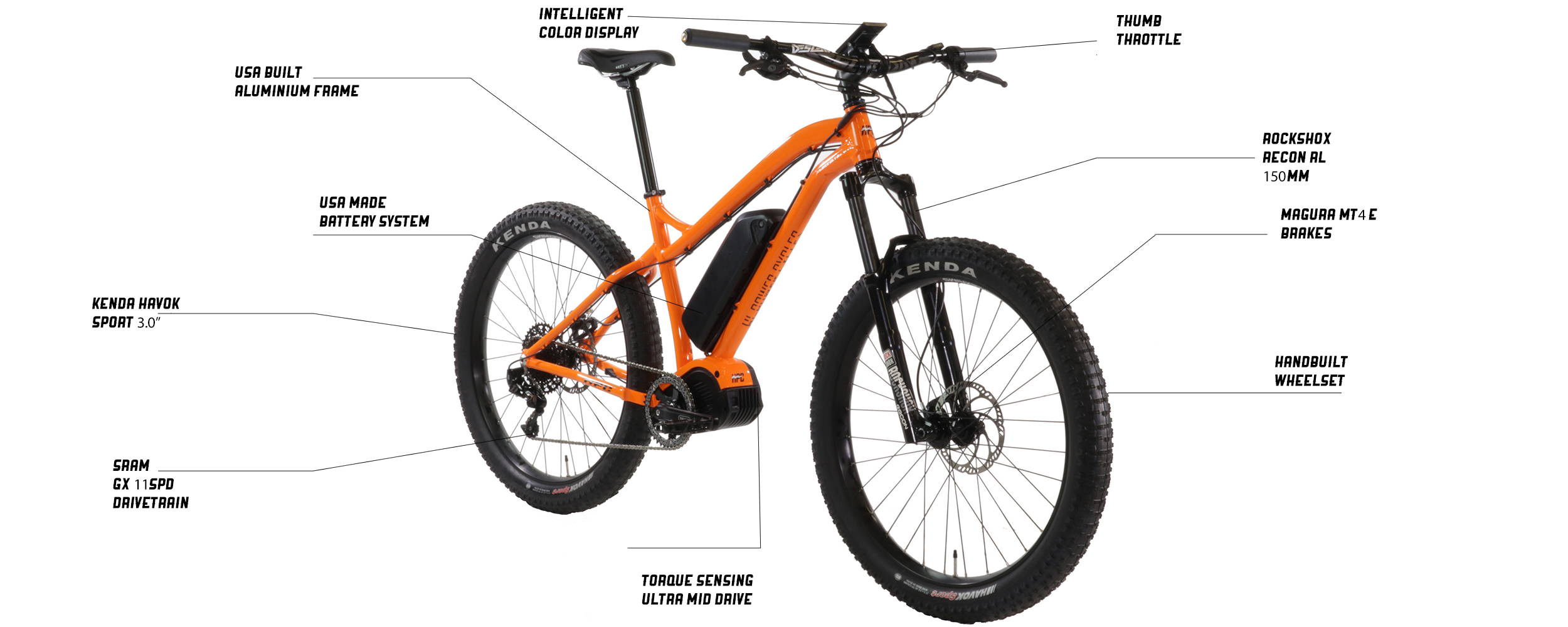 Unmatched Performance, Unrivaled Quality
The Scout is our premier hardtail E-bike Hi-Power Cycles. What you see here is a product that has been over 2 years and 4 prototypes in the making. Our goal with the Scout was to build the best bang for your buck ebike and pack as many features and technology in it as we could. We ended up with an unbelievable hardtail packing a powerful motor system, plus size 27.5" tires with boost frame technology, 150mm of suspension travel and the best overall ride experience we could imagine.
The Scout is hand welded and 100% built here in the United States. The frame itself is mitered, jigged, CNC'd, welded, heat treated, spray quenched, straightened, media blasted and powdercoated right here in California. It is designed to be best performing electric 27.5+ hardtail on the market and we are happy to say we hit our target goal! The Scout is built from 6061-T6 aluminum and custom hydro-formed tubing that are then welded one at a time by a highly esteemed industry professional with over 30 years of TIG welding experience. The amount of R&D, lab and field testing, and suspension tuning puts the Scout heads and shoulders above its competition in terms of overall quality, electric system performance, and ride quality.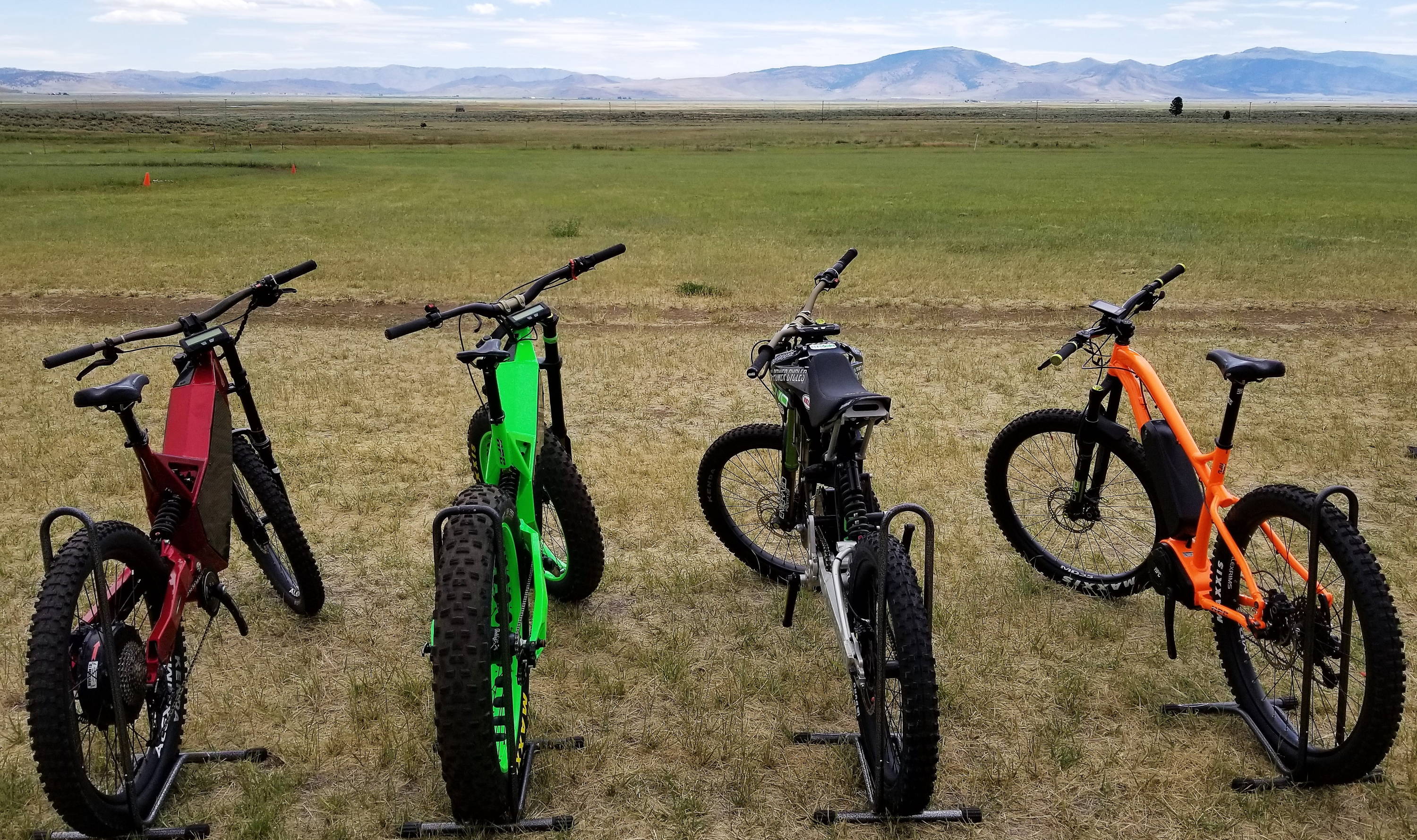 The "Swiss Army Knife" of E-bikes
This do it all e-bike is equally suited for hunters who want to venture way back into the wilderness and get as much range as possible or for college students looking for a silent, powerful daily commuter that will climb any hill he or she may encounter along the way. This bike can adapt to suit your needs and thrive in nearly any situation. By using the large 382% gearing range, your top speed can vary from 11 mph with huge torque for hill climbing to 36 mph top speed (2000W version) on the straightaways- all with one motor!
---
We have partnered with the best finance companies in the U.S. to bring you the lowest rates and options for buying your dream HPC E-Bike. Fill out the quick application and see instantly what you can afford!
With the optional 2000 Watt mid drive power system, the Scout can achieve speeds up to 36 mph (throttle only) with higher speeds available with pedal assist. (1500W- 33mph, 750W-28mph)
*Off road mode must be enabled
80 Mile Range
(160+ Miles in Eco Mode)
The optional 48V 1680Wh battery offers a throttle only range of up to 80 miles (160+ miles in Eco mode). The standard 596Wh battery offers up to 28 miles range (60+ in eco mode).
*Throttle only, 20mph, 160lb rider
Have the need for speed and acceleration? The Scout, with wide range 11-42T gearing, has enough torque to climb nearly any hill!
*2000W system w/ 15T rear sprocket, 150lb rider
Only 8 cents to fill up means you can go farther and more often! Travel up to 60 miles on the standard 596Wh battery (eco mode). No need for gas or oil changes again!
*Based off 12¢ per killowat hour US average
The optional 48V 1690Wh battery offers a throttle only range of up to 80 miles (160+ miles in eco mode). The standard 596Wh battery offers up to 28 miles range (60+ miles in eco mode).
*Throttle only, 20mph, 160lb rider
The space age 6061 aluminum and hydroformed aluminum are light and rust proof! By using high performance electronics with lightweight components, we were able to keep the weight at just 52 lbs (base configuration, medium frame)
The Scout uses the highest quality and best performing electric system in the industry. Our goal in the design was to maximizes power to weight ratio for this platform to offer the most pleasurable riding experience. The result is a seamless blend of power, performance and precision that pairs perfectly to the rider in any situation!
---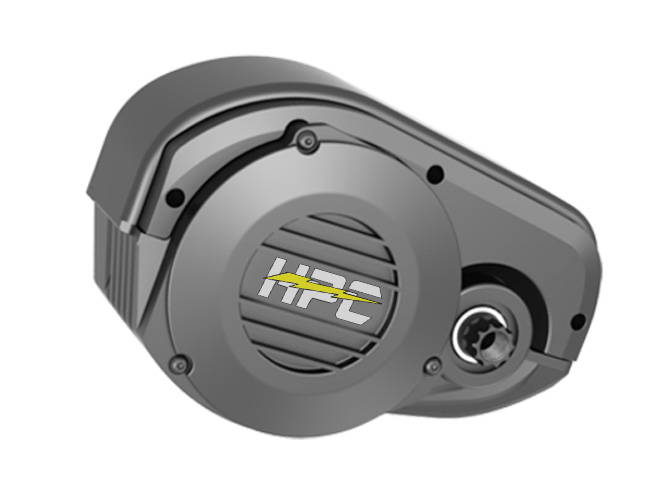 Powerful Integrated Mid Drive Motor
The Ultra Drive System puts the rider in complete control. In spite of a generous power output (750W/1500W/2000W) and a maximum torque of more than 160 N.m, the motor operates in virtual silence. Want more power? Simply pedal harder or put the assist level up! If pedaling is not for you, just press the thumb throttle and kick your feet back while the motor does all the work for you! This motor system comes in three different power packages: 750W, 1500W, and 2000W.
Using the extra wide 381% gear spread on the Scout, this motor system is capable of blistering speed (36+ mph with the 2000W motor) and incredible hill climbing power in a light weight, reliable and silent package. The integrated sine wave control system is smooth, dependable, and offers excellent power response!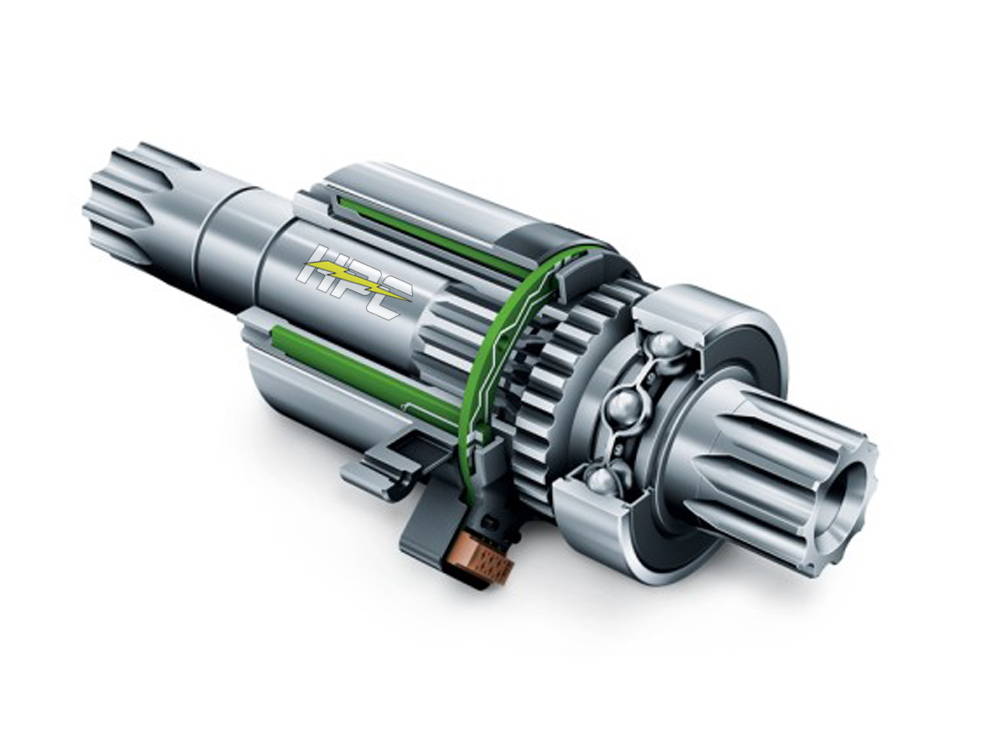 Advanced Torque Sensor + Cadence Sensor
Featuring the newest in e-bike technology, the intelligent sine wave control system is able to process rider input and immediately increase or decrease assistance based on the data it receives. By constantly processing data from rider input at over a thousand times per second, the bike will know exactly how much assistance to give at any given moment.
Want more power? Simply pedal harder (or use the throttle)! Want to slow done? Pedal lightly. Want the motor to stop? Stop pedaling or tap your brake lever. The controller processes not only torque values but cadence values (how fast you are pedaling) as well to give the smoothest riding experience possible! Put the assist to Turbo mode and you will feel like you have superhuman strength!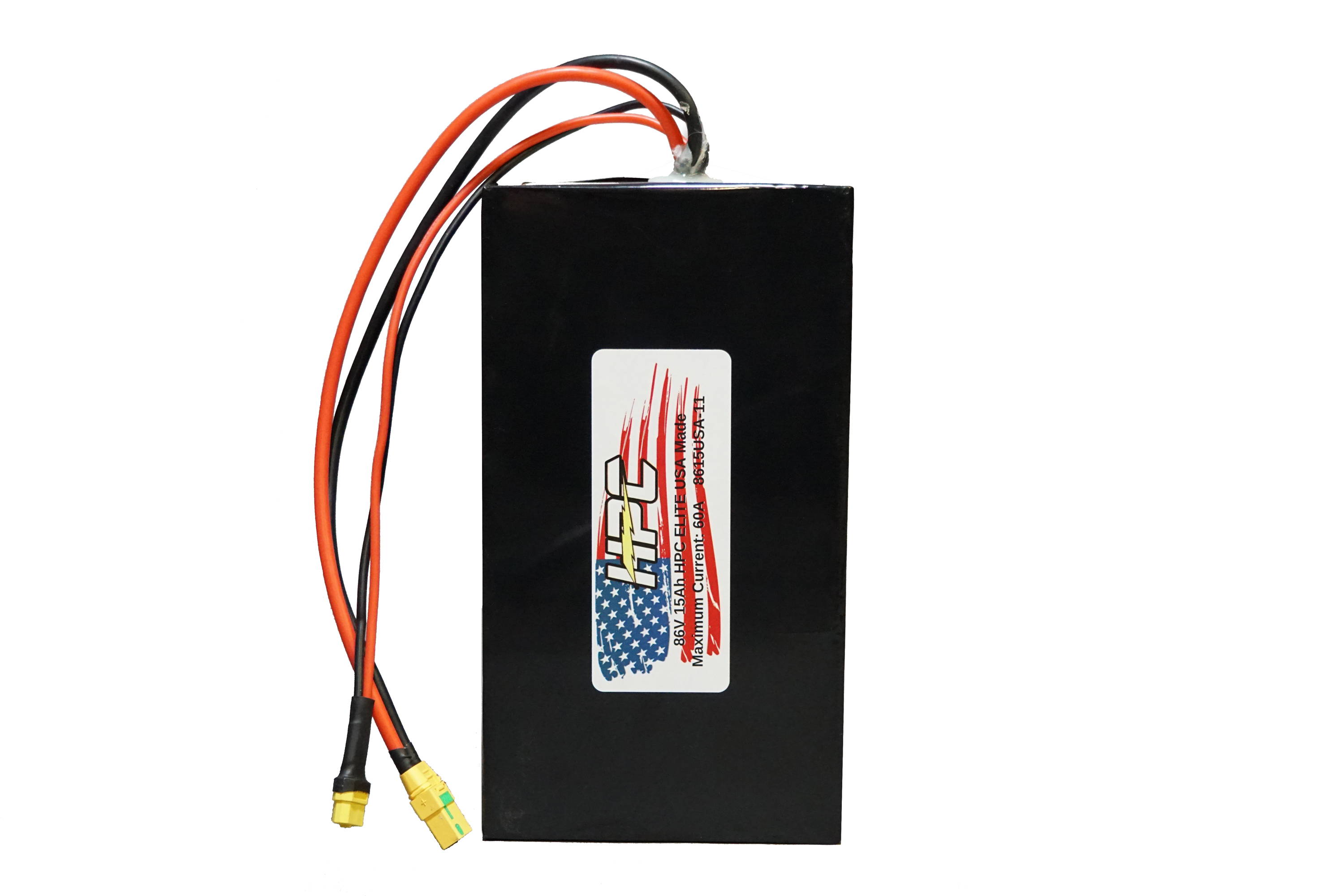 Made in USA Battery System
Any electric bike is only as good as its battery. What cells that are used (making sure they are authentic and not counterfeit like many imported packs), the assembly process, the materials used in the battery production, what connectors are used, and what battery management system is used is imperative to getting the proper performance and safety from your e-bike.
Our battery systems use only the finest authentic cells that are triple checked for consistency and performance before they are assembled. Our in house assembly process allows us to be in total control of the quality and make the most reliable and highest performing battery systems possible. All battery packs feature intelligent battery management systems and smart chargers to keep the battery performing at its optimal level, charge after charge. With up to 80 miles of range (160+ miles in eco mode), the only thing you need to worry about is where will go next!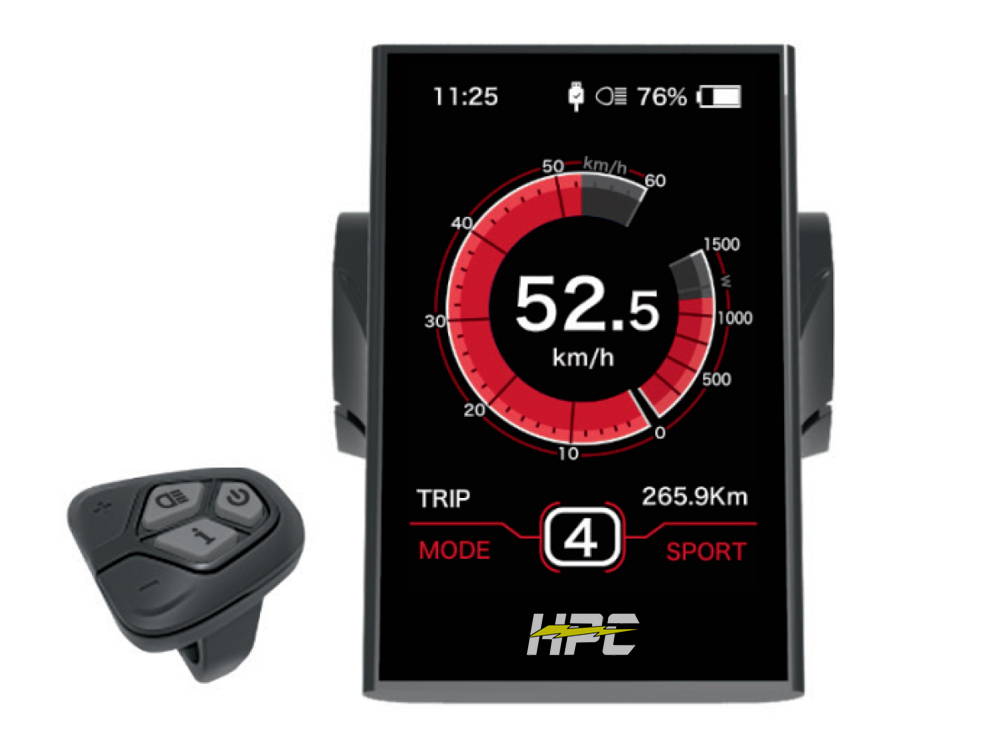 Intelligent Color Display
Our full color display is seamlessly integrated with the bike and offers the rider a plethora of information. Not only do you have a very accurate battery voltage meter with battery bar, it shows you current power draw, speed, power mode, pedal assist level and distance traveled in a highly attractive display. With the integrated USB port, your power hungry devices will always stay charged! The integrated pod mounted on the handlebar easily navigates all the menus and pedal assist levels without taking your hand off the grip. There is even a "walk" function to help you up hills you don't want to ride up!
Refined Frame Geometry
Through several iterations and hundreds of hours of testing, our team of engineers designed a bike that will perform as well as it looks! We keep ourselves aligned with cutting edge industry standards for suspension design, bike geometry, and component standards to make sure our frames will be comfortable and perform to our exacting specifications. The frame is the most important aspect of your bikes handling and feel so this is not an aspect to overlook since even the smallest degree change can have a huge impact!
---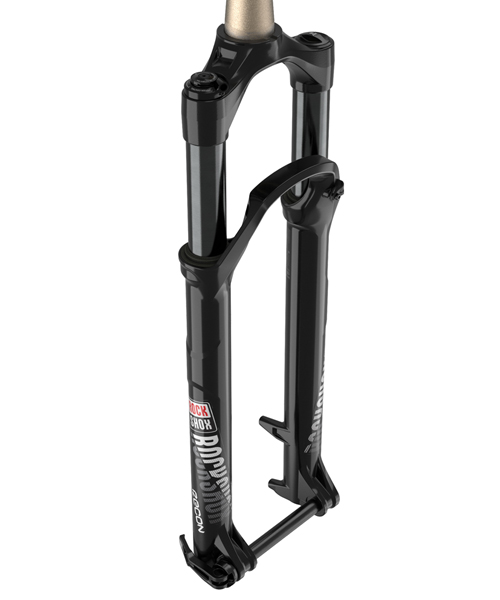 150mm Travel Air Suspension
(Tapered Head Tube)

Featuring magnesium lowers and an updated dampening system for 2019, the Recon RL offers 150mm of plus suspension travel. The air suspension system allows for fine tune adjusting by each individual for the perfect ride and suspension performance! The reinforced tapered head tube is specifically designed for the increased stress loads of our high performance motor systems and keep the frame as fork as stiff as possible.
15x110mm Front Hub/12x148mm Rear Hub. With the hub flanges wider, the spoke bracing angle is now increased and wheel stiffness is improved. Additionally, by making the bike's chain stays wider, we were able to make them shorter while still maintaining tire clearance. Shorter chain stays mean optimum weight distribution and more agile handling than a similar bike. Wider hub contact patches allow for more precise handling and control.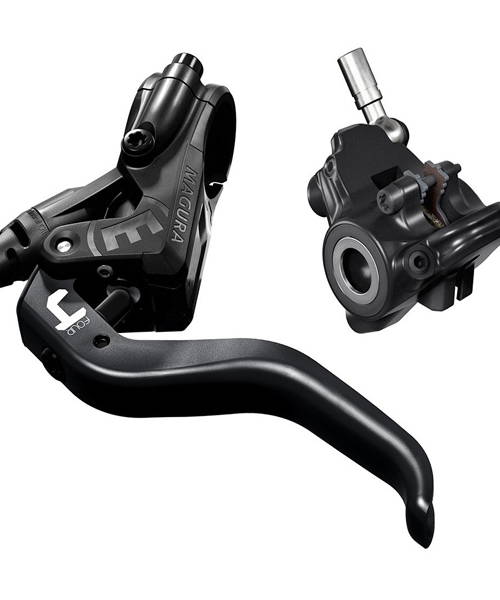 Magura MT4e Hydraulic Brakes
How to slow down from warp speed? The Magura MT4e with oversized 180mm rotors is the answer. Relying on experience from motorcycles, Magura makes class leading hydraulic brakes. The MT4's are light, reliable, and feel fantastic! The integrated cutoff will cut motor power as soon as it is activated.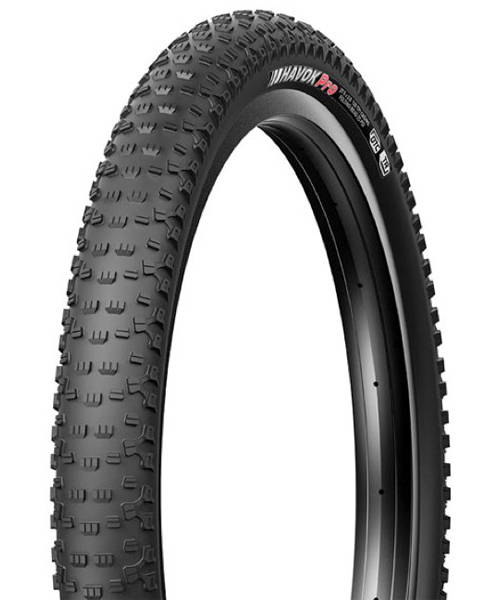 27.5" Plus Size Tires (27.5x3.0)

A tire for a new generation of ebikes. The Havok's Plus sized combination of larger air volume, increased contact patch, and the versatile tread pattern make it the perfect tire for a high performance electric bike application. The increased traction and stability of the 27.5+ tires will inspire you to take on even the gnarliest terrain!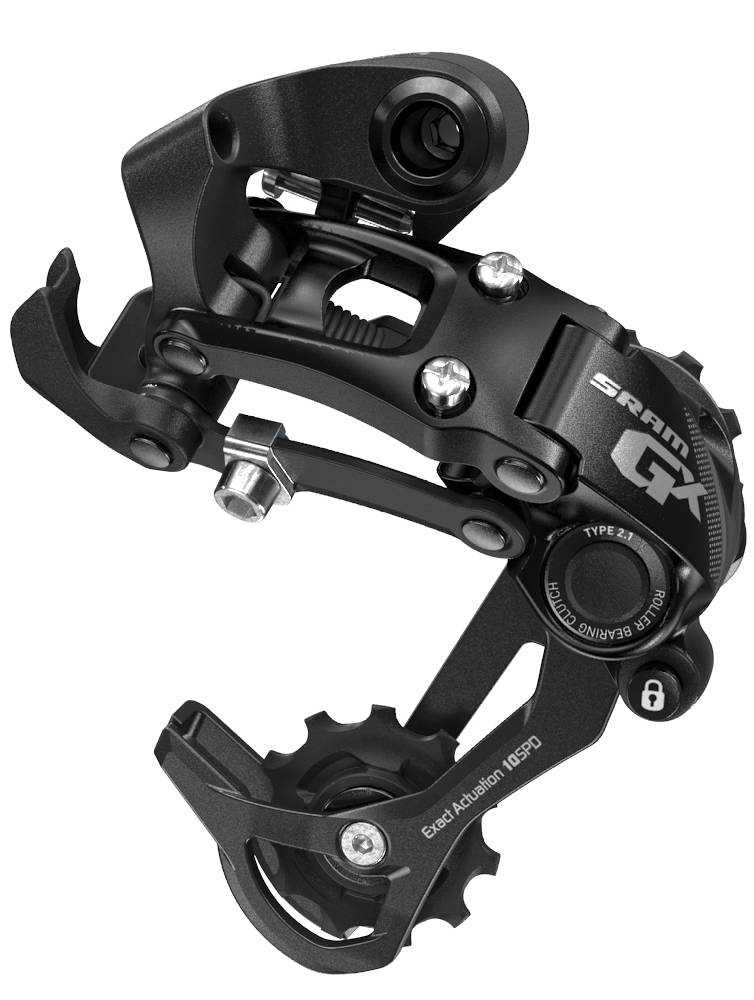 SRAM Eagle GX 12 Speed Transmission
(454% Gear Spread)

Leveraging the legendary history of SRAM shifting, the GX speed rear derailleur and electric specific GX-e shifter provides incredible shifting speed and precision. X-ACTUATION™ technology eliminates slop and shifting variation. ROLLER BEARING CLUTCH™ technology delivers maximum drivetrain stability—even through the most punishing terrain. The extra large 11-50T 11s rear cassette offers a huge 454% gear range to enable the motor to thrive in any situation!
A fast e-bike requires the most robust wheelset for performance and safety. The Scout features custom Alex MD40 rims matched with high quality custom sourced E-Bike hubs. All of our wheel builds start by cutting each individual Phil Wood spoke in house and then hand lacing them to the hubs. By using the highest quality spokes, nipples, hubs, and rims, we ensure the best wheel you can get!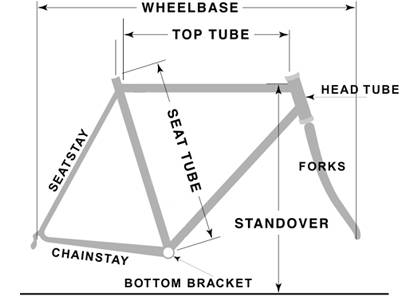 Frame Size: Choosing the right frame size is an important aspect of bike riding. These frame recommendations are general guidelines. Note: Frame sizing is not as important for e-bikes compared to standard pedal bikes so get a frame you feel comfortable with!
Medium Frame: For riders ~5'4"-5'8", inseam ~28"
---
Large Frame: For riders ~5'8"-6'1", inseam ~31"
---
Extra Large Frame: For riders ~6'2"+, inseam ~33"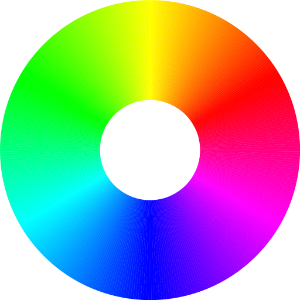 Color Option: We offer 3 standard colors (see below). If you want something custom, we offer the ability to choose ANY color you want for your Scout!
Choose either Orange, Gloss White, or Matte Black
---
Choose ANY color of your choice (single stage, two stage and candy colors). Pick your color here: Prismatic Powders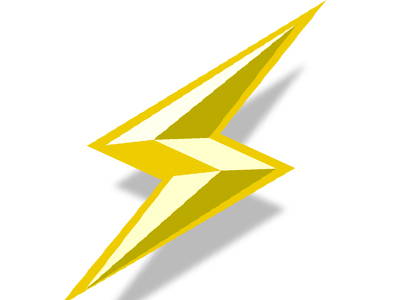 Power Level: The base power level is 750W. You can upgrade to the 1500W or even 2000W for more power, speed, and torque. Just make sure you hold on tight!
The 750W system is the most powerful US legal e-bike system. You will not find a more powerful or capable motor system! Can choose between Class 1, Class 2, or Class 3 configuration.
---
The 1500W system offers nearly double the power of the 750W system. It increases your hill climbing power and top speed (private property). Note: This system is sold as Class 2, limited to 20mph. For offroad or private property use, you can unlimit for full power.
---
The 2000W system increases power and torque from the 1500W system by 25%. It is a very noticeable increase in hill climbing power and a small bump in top speed (private property). Note: This system is sold as Class 2, limited to 20mph. For offroad or private property use, you can unlimit for full power.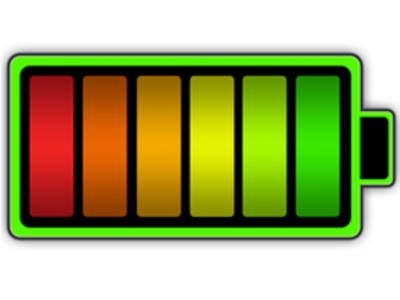 Battery: Choose the battery that suits your riding needs. If you are riding hills or off-road, your range will be less than quoted. Quoted range is in ideal conditions (170lb rider, paved road, 20mph, throttle only). In the level 1 pedal assist, you can easily double your range!
48V, 596Wh, 28 mile range. Perfect for those who do not require a lot of range
---
48V, 673Wh, 30 mile range, +1% extra power. Great blend of size and capacity.
---
48V, 840Wh, 40 mile range, +2% extra power. Maximum range capacity in a lockable hard case for ultimate e-bike experience!
---
48V, 1680, 80+ mile range, +3% extra power. Maximum range capacity. Never worry about running out of battery! Note: Requires frame bag!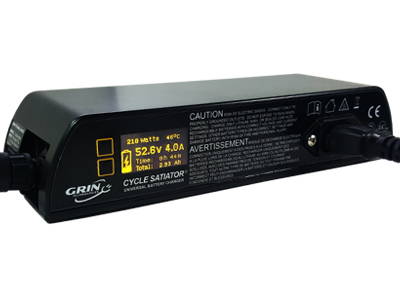 Charger: Choose the charger that suits your needs. The more powerful charger will charge your battery faster for less down time. For those wanting to keep their battery system to stay healthy longest, we recommend the Satiator upgrade.
Power: 2A. Charge time: ~6 hours (from 5% to 100%)
---
Power: 4A. Charge time: ~4 hours (from 5% to 100%). Most popular upgrade
---
Power: 6A. Charge time: ~2.5 hours (from 5% to 100%). Ideal for those who want the shortest charge time.
---
Power: 5A. Charge time: ~2.5 hours (from 5% to 100%). The Satiator is a remarkable charger that will make your battery stay healthy for longer. With very specific charging algorithms and the ability to float charge, your battery will stay in balance longer. This will increase your overall range and longevity of the pack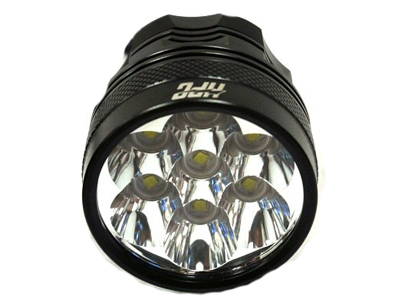 Lighting System: If you will be riding your bike at dark and if safety is the utmost importance, we highly recommend a quality lightning system. All of our headlights feature 3 power modes (low, medium, high) as well as a strobe function. The included Thunderbolt rear light is extremely bright to be sure you are seen at night! You will not find a brighter light!
Great choice for commuters or those occasionally riding at night. This is a super compact headlight that has surprising light output
---
Great choice for commuters who want ultimate visibility or those ride high speed at night (on or off road). This headlight has the highest light output and longest battery life.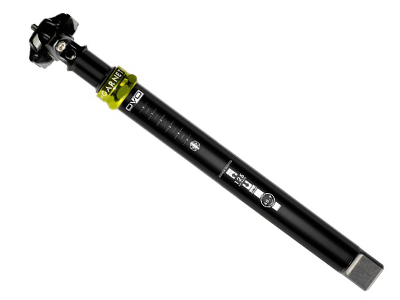 Dropper: We offer a DVO Garnett dropper option. This is great to adjust seating position on the fly to keep you in the perfect condition on climbs/descents.
---
Designed by riders for riders, the DVO Garnet Dropper was developed with reliability and performance at the top of the list. The DVO Garnet Dropper is clean, simple, elegant, and just plain works.
---