Race Scout
The Race Scout is was dreamed up by the HPC Factory Racing Team to compete in the 2019 E-Bike series circuit. Featuring a highly intelligent torque sensor built into the motor, it monitors your input thousands of time per second to multiply your power to the rear wheel. With 750W of power and race spec components, there is not another bike on the market like this that is available for consumers to buy that is factory ready to race! With a custom hand painted USA themed frame, custom painted color matched components, and factory component specs, ride the exact same bike that the HPC Factory Racing Team uses for the 2019 season!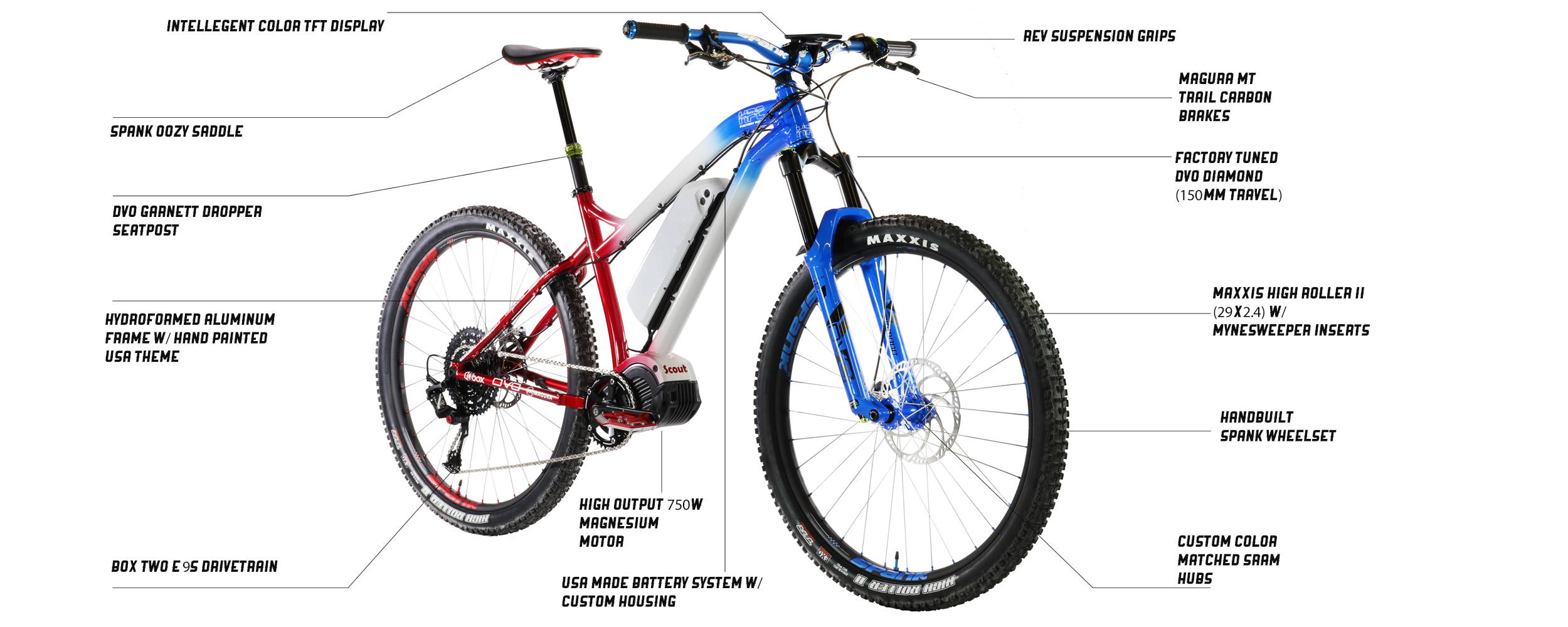 HPC Factory Team Performance
The Race Scout is our premier class 1 hardtail E-bike Hi-Power Cycles. What you see here is a product that has been over 3 years and we have gone through hundreds of different components to finalize our 2019 Race bike. Inspired by the HPC Factory Team racing trials from 2018, in 2019 we wanted to build the most impressive and feature packed class 1 race bike that performance not only on the race circuit, but something that would be available to consumers We ended up with an unbelievable hardtail packing a brand new class 1 750W Magnesium motor system that shaves off weight from our standard Scout, and packed it with the best components we could source from our Factory Team race bike, including the factory tuned DVO Diamond 150mm fork! These components have been vetted on the race track and provide a seamless experience that will perform in any situation.
The Race Scout is hand welded and 100% built here in the United States. We started this project to offer the consumer market a race ready bike and we are extremely pleased to have hit our target. The Race Scout is built from 6061-T6 aluminum and custom hydro-formed tubing that are then welded one at a time by a highly esteemed industry professional with over 30 years of TIG welding experience. The frame and components are then meticulously hand painted in Chatsworth, CA from an esteemed artist one at a time. Our group of engineers have tweaked the Scout frame in order to maximize the performance of this platform for high speed off road riding. This amount of R&D, lab and field testing, and factory tuned DVO suspension tuning puts the Race Scout on another planet compared to its competition and you will not find another company offering a factory tuned race ready bike!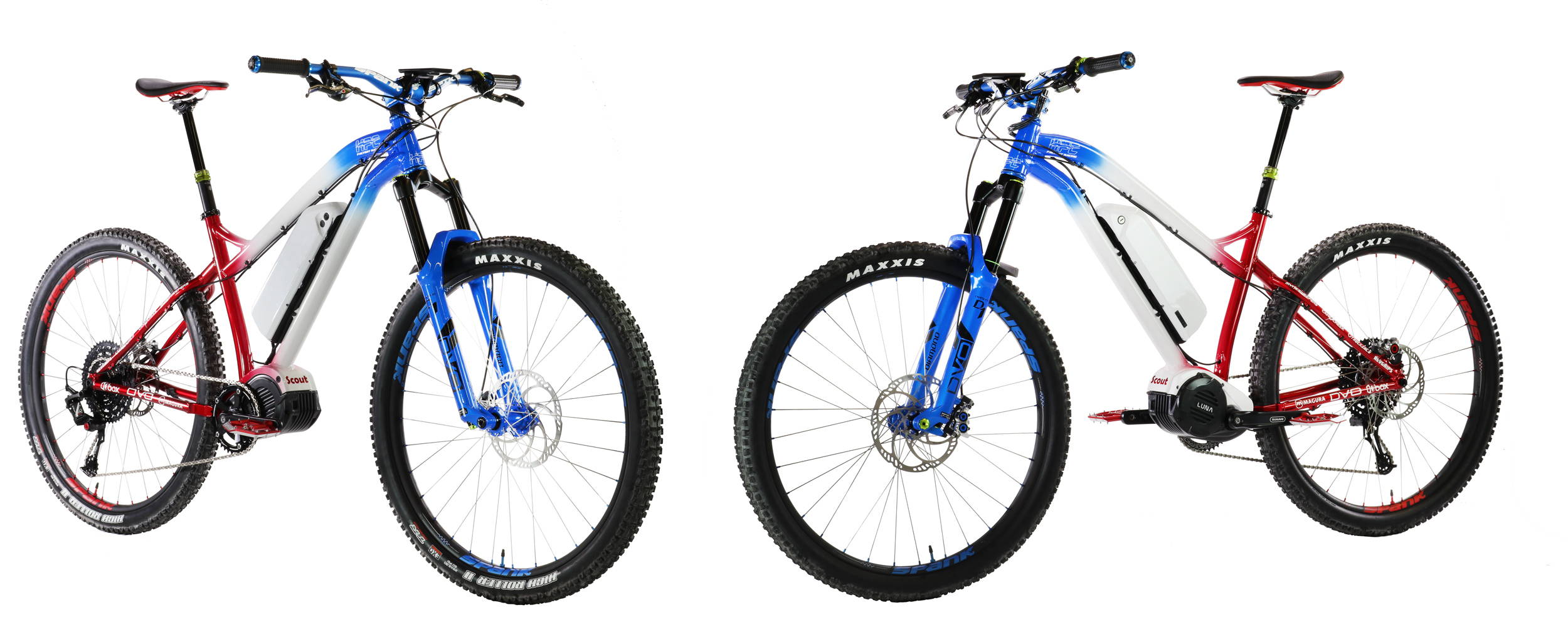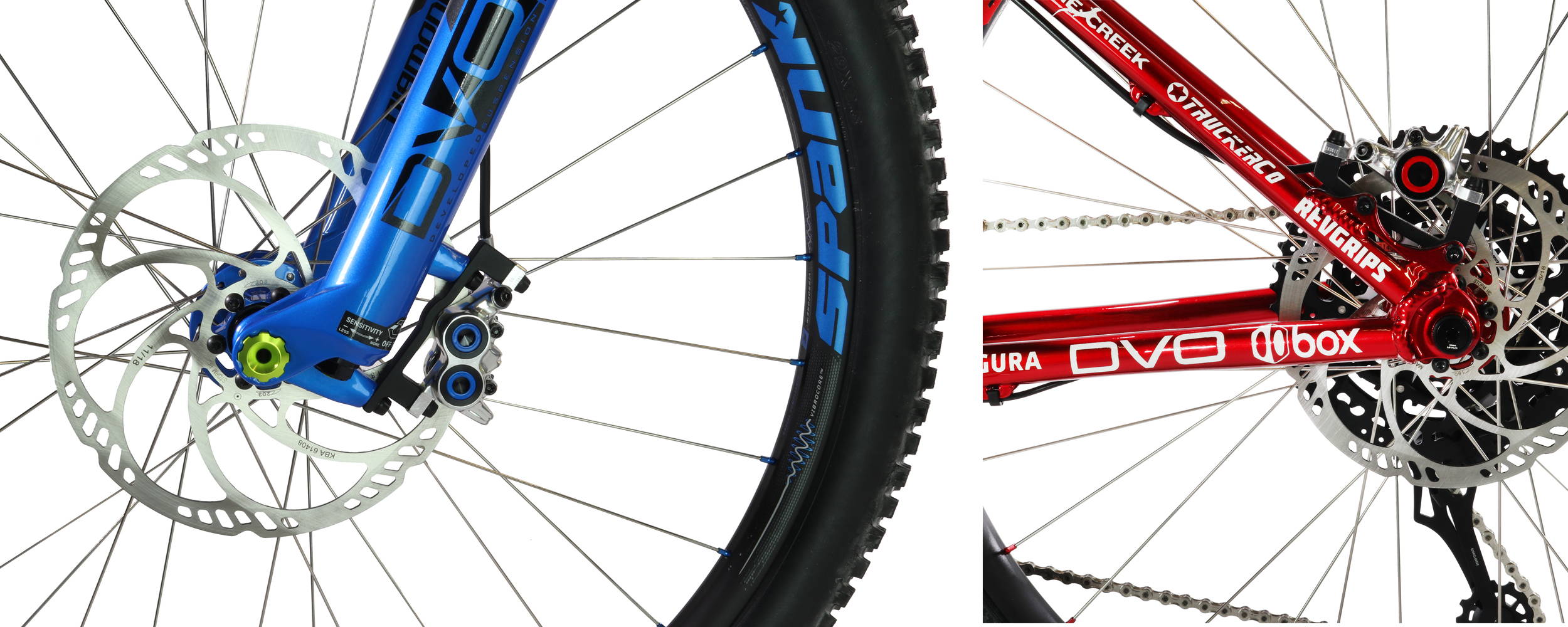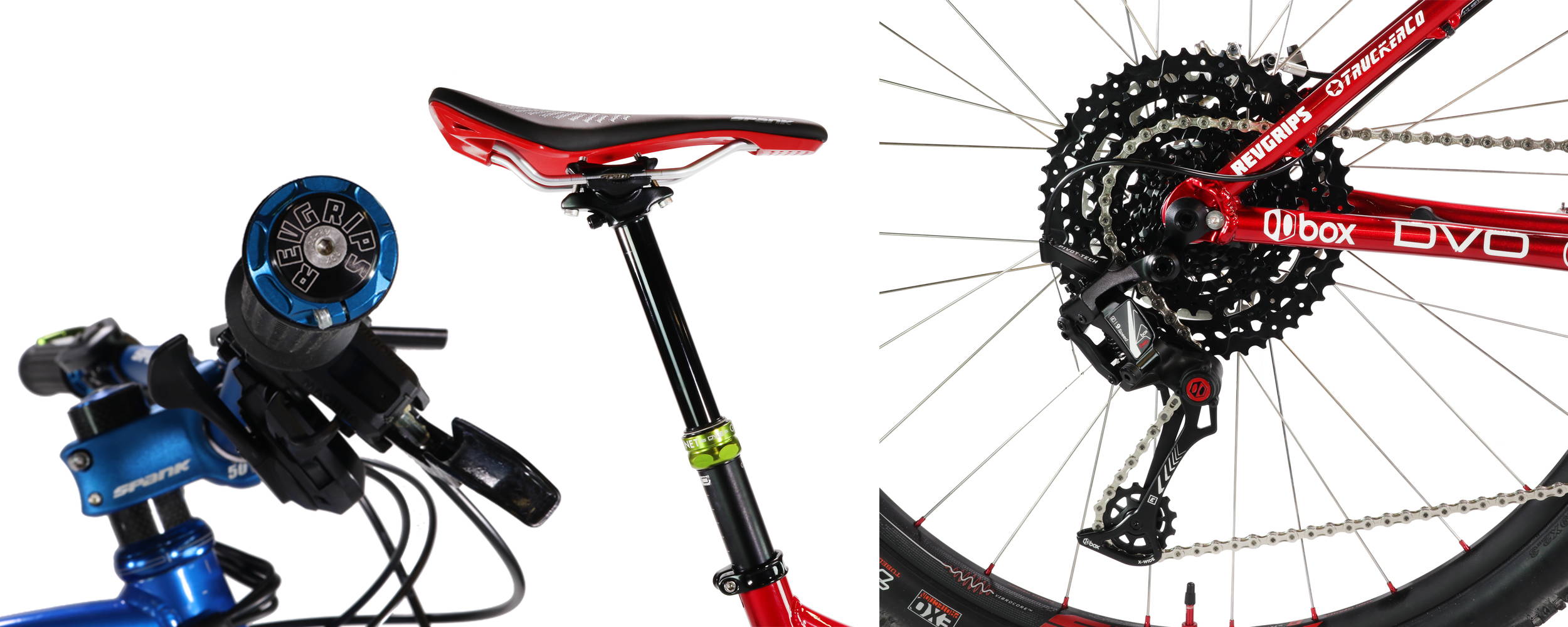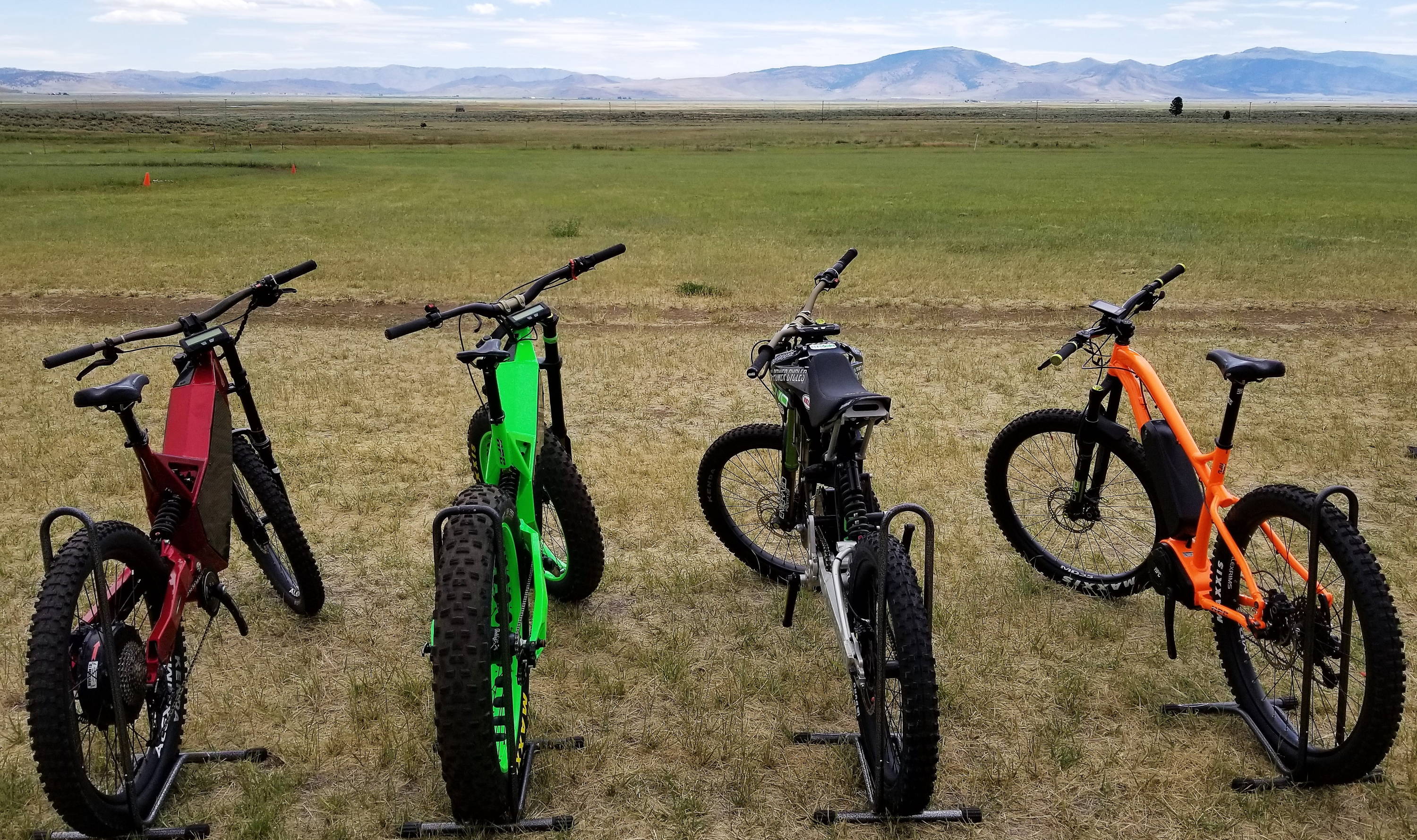 From the Track to the Urban Streets
This do it all e-bike is equally suited for for racing enthusiasts looking to get into e-bike racing or someone how is looking for a silent, powerful daily commuter that will climb any hill he or she may encounter along the way. This bike can adapt to suit your needs and thrive. With a powerful 750W mid drive motor, you will not find a more powerful class 1 e-bike!
Since you can shift through the different speeds of the bike with your motor, your top speed can vary from 8 mph with huge torque for hill climbing to 20mph on the straightaways- all with one motor! Race spec parts are designed to be robust and take any abuse you throw at it!
---
We have partnered with the best finance companies in the U.S. to bring you the lowest rates and options for buying your dream HPC E-Bike. Fill out the quick application and see instantly what you can afford!
With a powerful 750 Watt mid drive power system, the Race Scout can achieve speeds up to 20 mph.
35 Mile Range
(70+ Miles in Eco Mode)
The 48V 672Wh battery offers a throttle only range of up to 35 miles (70+ miles in Eco mode)
Have the need for speed and acceleration? The Race Scout, with wide range 11-48T gearing, has enough torque to climb nearly any hill!
Only 8 cents to fill up means you can go farther and more often! Travel up to 60 miles on the standard 596Wh battery (eco mode). No need for gas or oil changes again!
*Based off 12¢ per killowat hour US average
The optional 48V 672Wh battery offers a throttle only range of up to 35 miles (70+ miles in eco mode).
The space age 6061 aluminum and hydroformed aluminum are light and rust proof! By using high performance electronics with lightweight components, we were able to keep the weight at just 54 lbs (medium frame)
The Race Scout uses the highest quality and best performing electric system in the industry. Our goal in the design was to maximizes power to weight ratio for this platform to offer the most pleasurable riding experience. The result is a seamless blend of power, performance and precision that pairs perfectly to the rider in any situation!
---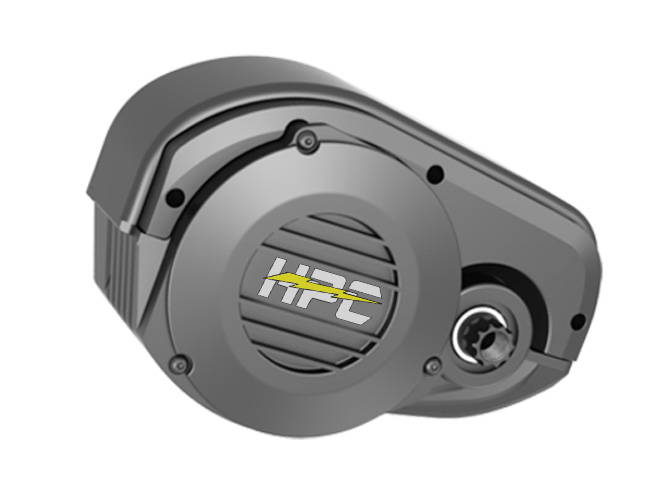 Powerful Integrated Mid Drive Motor (Magnessium)
The Ultra Drive System puts the rider in complete control. All pro models feature an updated Magnessium motor to keep the motor weight down. In spite of a generous power output (750W) and a maximum torque of more than 140 N.m, the motor operates in virtual silence. Want more power? Simply pedal harder or put the assist level up!
Using the extra wide 436% gear spread on the Race Scout, this motor system is capable of the most available performance of any class 1 electric bike that is currently available. The integrated sine wave control system is smooth, dependable, and offers excellent power response!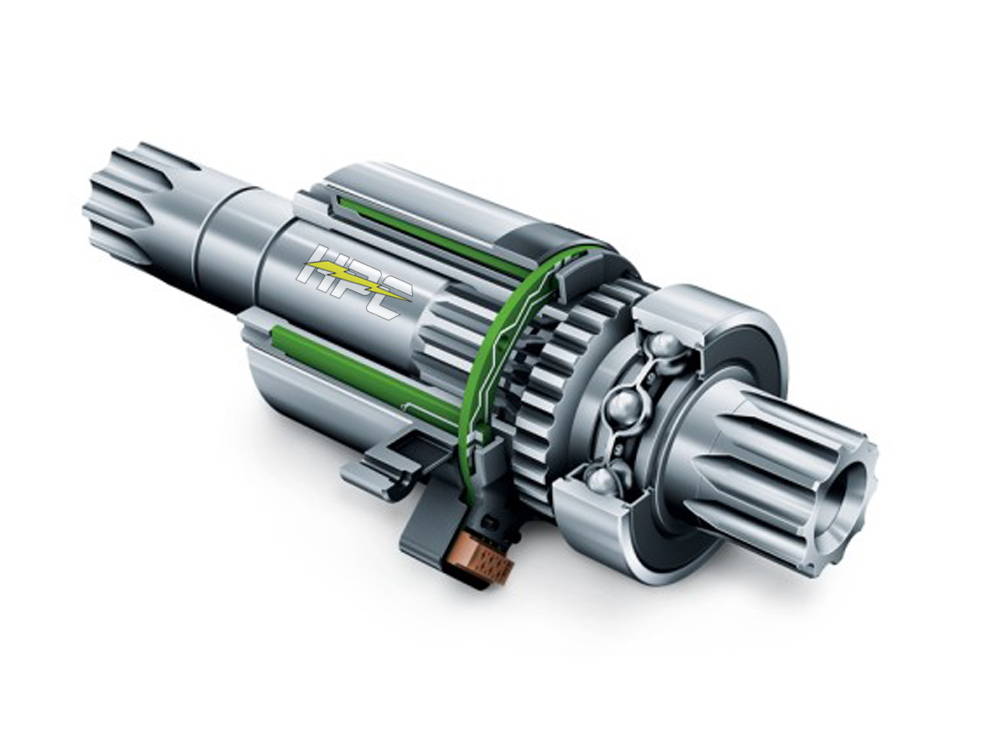 Advanced Torque Sensor + Cadence Sensor
Featuring the newest in e-bike technology, the intelligent sine wave control system is able to process rider input and immediately increase or decrease assistance based on the data it receives. By constantly processing data from rider input at over a thousand times per second, the bike will know exactly how much assistance to give at any given moment.
Want more power? Simply pedal harder (or use the throttle)! Want to slow done? Pedal lightly. Want the motor to stop? Stop pedaling or tap your brake lever. The controller processes not only torque values but cadence values (how fast you are pedaling) as well to give the smoothest riding experience possible! Put the assist to Turbo mode and you will feel like you have superhuman strength!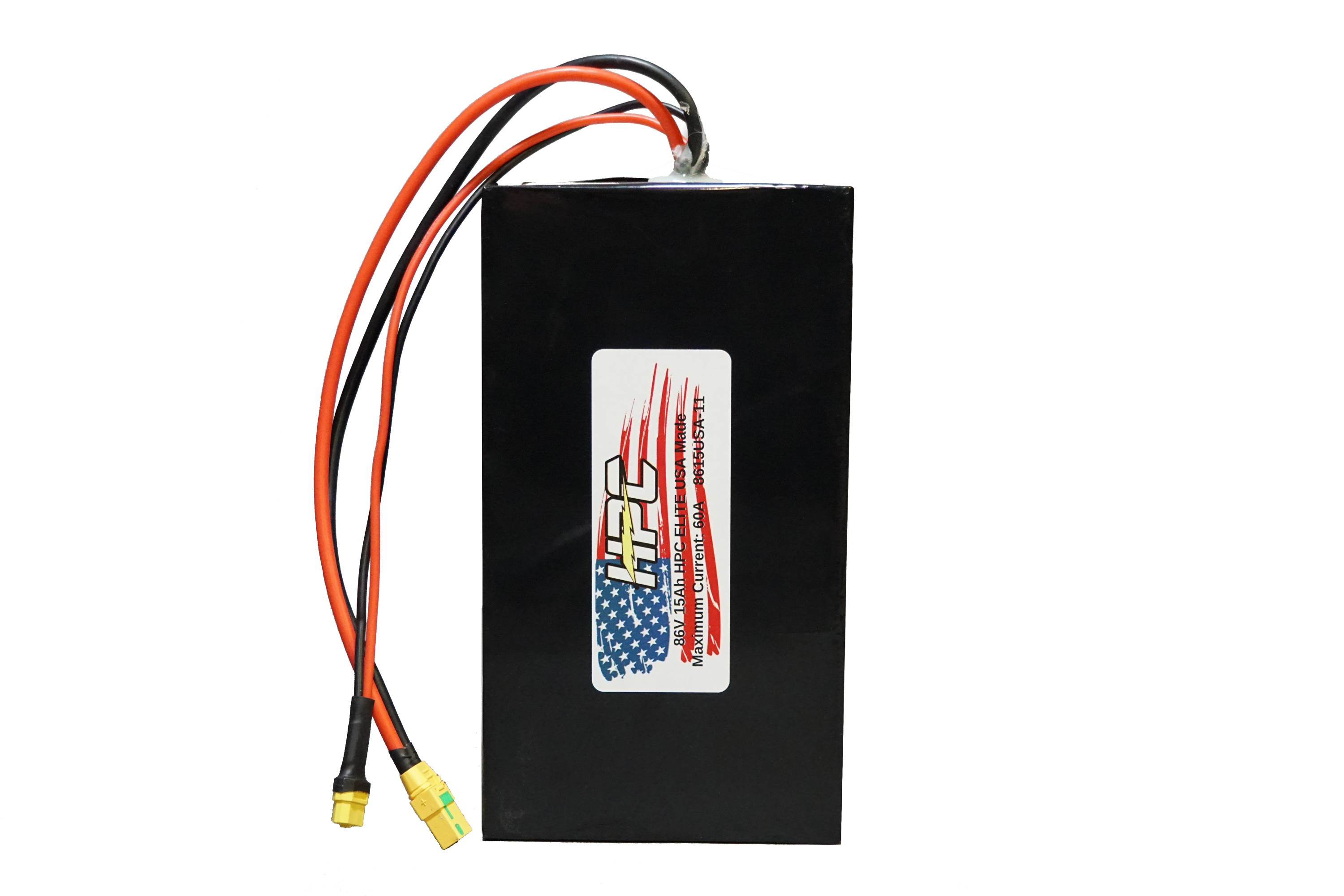 Made in USA Battery System
Any electric bike is only as good as its battery. What cells that are used (making sure they are authentic and not counterfeit like many imported packs), the assembly process, the materials used in the battery production, what connectors are used, and what battery management system is used is imperative to getting the proper performance and safety from your e-bike.
Our battery systems use only the finest authentic cells that are triple checked for consistency and performance before they are assembled. Our in house assembly process allows us to be in total control of the quality and make the most reliable and highest performing battery systems possible. All battery packs feature intelligent battery management systems and smart chargers to keep the battery performing at its optimal level, charge after charge. With up to 80 miles of range (160+ miles in eco mode), the only thing you need to worry about is where will go next!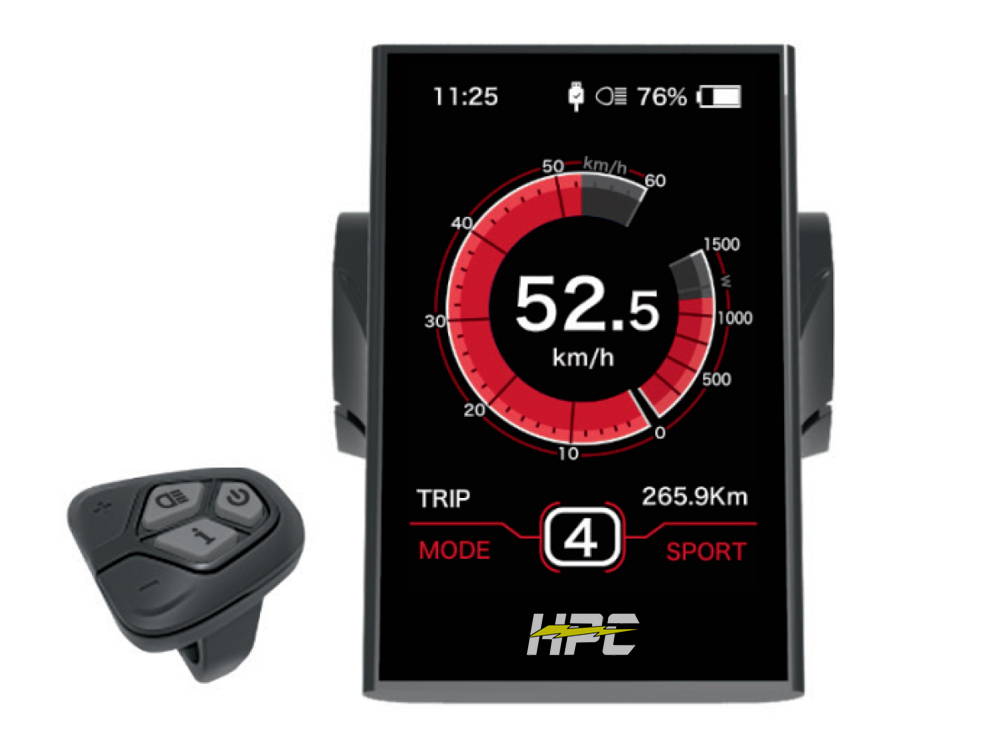 Intelligent Color Display
Our full color display is seamlessly integrated with the bike and offers the rider a plethora of information. Not only do you have a very accurate battery voltage meter with battery bar, it shows you current power draw, speed, power mode, pedal assist level and distance traveled in a highly attractive display. With the integrated USB port, your power hungry devices will always stay charged! The integrated pod mounted on the handlebar easily navigates all the menus and pedal assist levels without taking your hand off the grip. There is even a "walk" function to help you up hills you don't want to ride up!
Refined Frame Geometry
Through several iterations and hundreds of hours of race data, our team of engineers designed a bike that will perform as well as it looks! We keep ourselves aligned with cutting edge industry standards for suspension design, bike geometry, and component standards to make sure our frames will be comfortable and perform to our exacting specifications. The frame is the most important aspect of your bikes handling and feel so this is not an aspect to overlook since even the smallest degree change can have a huge impact!
---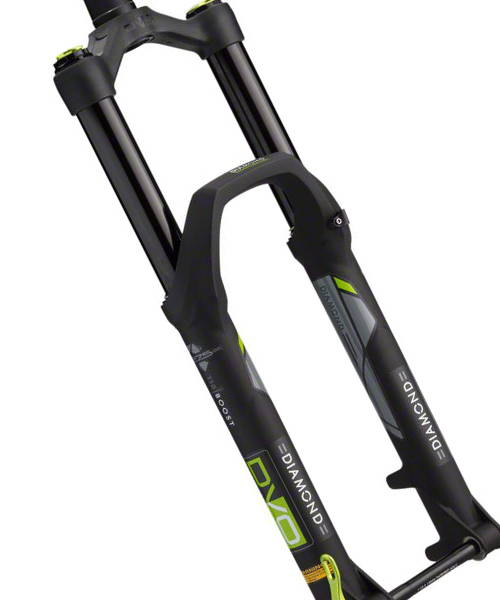 Factory Tuned DVO Diamond 150mm Travel Fork
(Tapered Head Tube)

The Diamond is our go-to fork for any time, anywhere. This is the fork that is loved throughout the industry; from professional racers to weekend trail warriors, this is THE fork!. The stiff, refined chassis allows the Diamond to remain precise under heavy loads and rough terrain. The reinforced bushing locations feature magnesium material that you can see in the center of the fork leg to create one of the stiffest chassis on the market. Factory tuned means the bike is tuned specifically for you to your body weight at DVO for unparalleled suspension performance!
Boost Spacing Frame w/ SRAM 900 Hubs

15x110mm Sram 900 Front Hub/12x148mm Sram 900 Rear Hub. With the hub flanges wider, the spoke bracing angle is now increased and wheel stiffness is improved. Additionally, by making the bike's chain stays wider, we were able to make them shorter while still maintaining tire clearance. Shorter chain stays mean optimum weight distribution and more agile handling than a similar bike. Wider hub contact patches allow for more precise handling and control. The hub's DOUBLE TIME™ drive mechanism ensures rapid engagement for quick and confident pedal responsiveness. SPEEDBALL™ bearings provide smooth, long-lasting rotation performance.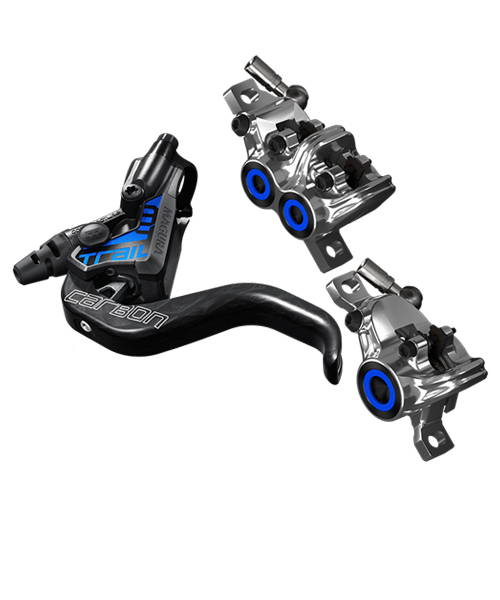 Magura MT Trail Carbon Brakes

With a little less weight at the back and modified trail performance it has been optimized even more. Weighing in at 332 grams the MT Trail Carbon is 15% lighter than the MT7 and just 5% heavier than the MT8 (299 grams), but still provides 100% trail performance.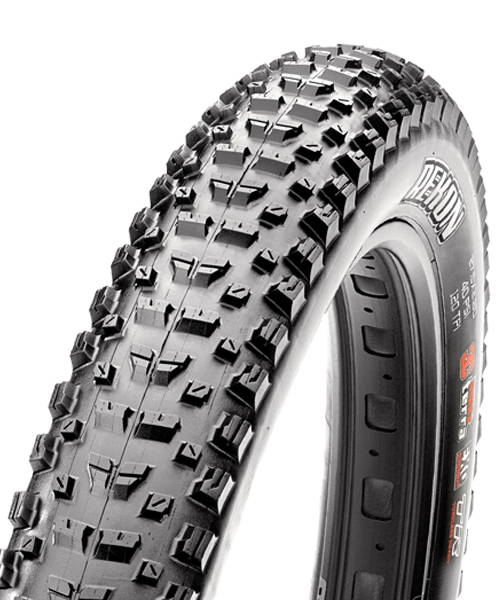 Maxxis Rekon 29" Tires w/ Spank 350 Vibracore Rims

The Rekon is an aggressive trail tire inspired by the Ikon for intermediate and technical terrain. Wide knobs down the middle provide control under braking and L-shaped side knobs assure support when carving loose turns. With confidence like this you can race more and scout less with the Rekon.
We can't think of many better ways to get rowdy on the trails than pairing the Rekon tires with Spank Oozy 350 Vibracore rims. Patented vibracore technology reduces the transmission of harmful vibration frequencies, meaning less vibration for the suspension and rider, also increasing the fatigue life of the rim. By using the highest quality spokes, nipples, hubs, and rims, we ensure the best wheel you can get!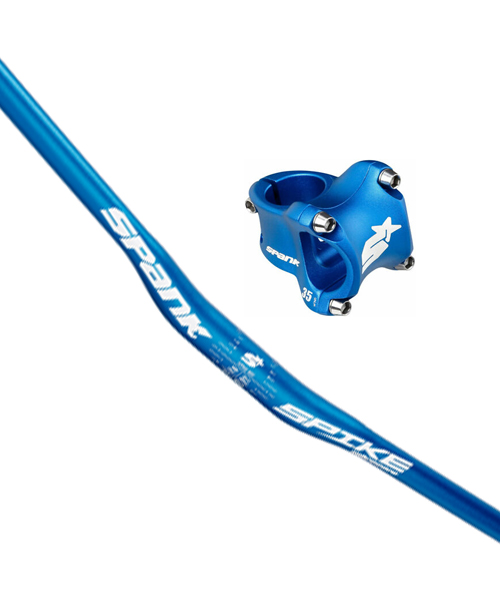 Spank Spike 800mm Handlebar w/ Spike Race 2 35mm Stem

World Cup quality performance, developed with the pros. SPANK Industries' legendary SPIKE 800 Race handlebar is the 5th generation of the SPIKE Race handlebar legacy, developed in coordination with some of the world's top DH and Enduro pros. A unique construction of Super 6 alloy, processed with SPANK's patented CNC bending and Dual-Extreme-Gradual Taper (XGT) technology makes the SPIKE 800 Race handlebar a stronger, safer, performance-optimized component for the weight-conscious gravity rider
Cane Creek 110 Series Headset

Handling and reliability are of utmost importance so we chose the best headset we could find that just so happens to be made in the USA!. The 110 series is a no-compromise, best-in-class premium headset. The 110 headset is made from the best materials in the world and uses ultra premium sealed bearings for long life and improved handling. You know it's quality when Cane Creek offers a 110 year warranty!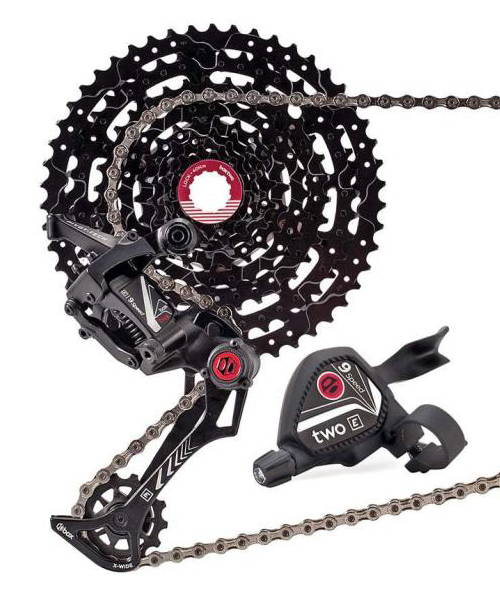 The Box Two-E system is an e-bike specific drivetrain that offers a better riding experience. 9 speeds and wide range gearing means less shifting action and more efficiency for the motor. With the 42 and 50 tooth low gears, it's possible to maintain optimum pedaling cadence while climbing steep hills. By enabling riders a higher pedaling cadence, the electric assist feature can be fully realized.
E-Bike specific drivetrain designed to provide wide gear ratios with reduced shifting
454% differential between gear 1 and gear 9
Easy to use Twin Lever Shifter actuation
Low maintenance derailleur
High durability cassette and chain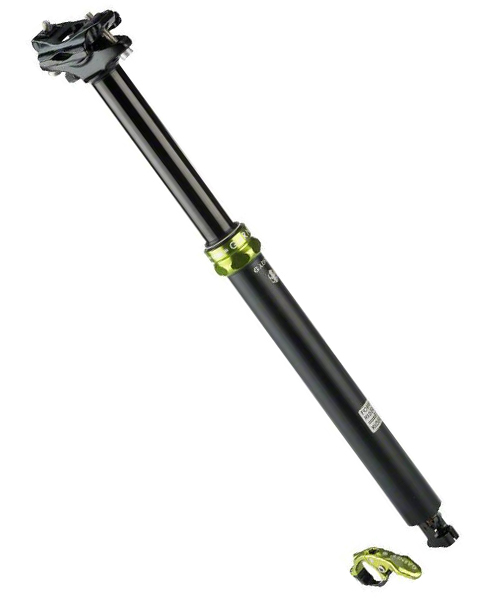 DVO Garnet Dropper Seatpost
DVO Suspension's Garnet Dropper Seatpost was designed with reliability and performance as its first priorities. Offering infinite travel adjustment, you can stop your saddle at precisely the right position to suit your height, riding position, and the terrain you're riding. This ensures maximum power output and optimal comfort in any situation you may encounter on your rider.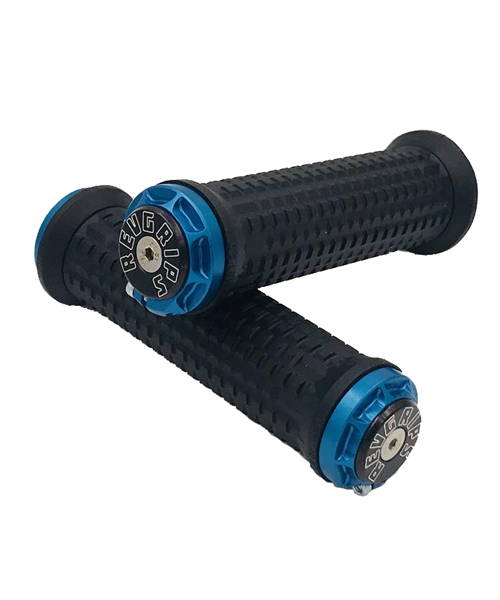 Revgrips Pro Series Grips
Revgrips are a patented "Shock Absorbing Grip System. They reduce arm pump, hand and arm fatigue, as well as lower back pain. They do this by suspending the inside of the grip from the bar entirely. The grip has an inner plastic sleeve that has a larger inside diameter than the bar diameter. Lock-on clamps with a series of shock absorbing inserts and tuning washers suspend the grip from the bar itself. Ride long, ride harder, and ride faster!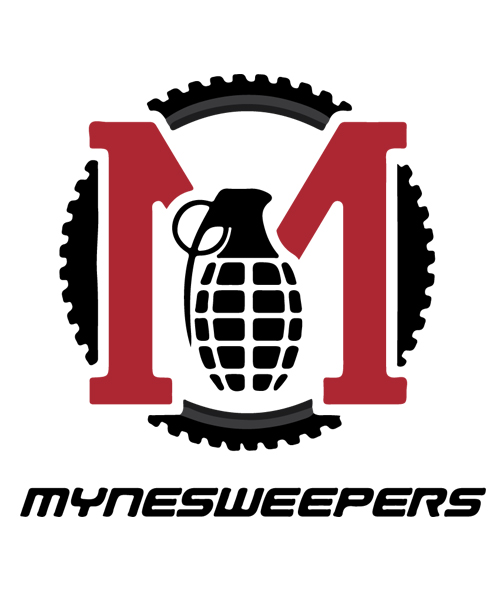 Mynesweepers Foam Inserts
Mynesweepers are lightweight, closed-cell foam tire inserts that are designed to provide superior protection and improve performance, while securely getting you to the end of your ride. Mynesweepers instantly give you the confidence to go through technical terrain and actually use all of the travel in your suspension, without damaging your wheels! Mynesweepers also help to prevent sidewall pinch flats, but in the event of a large tear, they provide enough support to get off the trail, even at zero psi!
---
---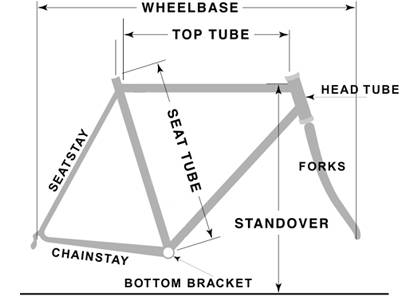 Frame Size: Choosing the right frame size is an important aspect of bike riding. These frame recommendations are general guidelines. Note: Frame sizing is not as important for e-bikes compared to standard pedal bikes so get a frame you feel comfortable with!
Medium Frame: For riders ~5'4"-5'8", inseam ~28"
---
Large Frame: For riders ~5'8"-6'1", inseam ~31"
---
Xtra Large Frame: For riders ~6'2"+, inseam ~33"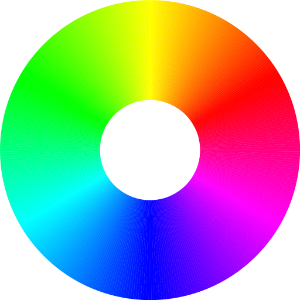 Color Option:  The Race Scout comes exactly as shown with custom hand painted USA theme to pay tribue to our US lineage!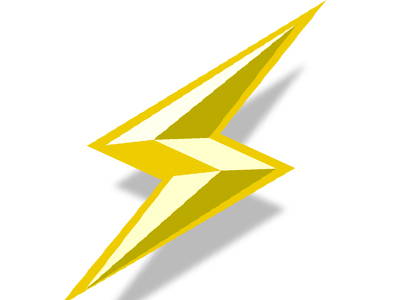 Power Level: The base power level is 750W. You can upgrade to the 1500W, 2000W, 2500W or even 3000W for more power, speed, and torque. Just make sure you hold on tight!
The 750W system is the most powerful US legal e-bike system. You will not find a more powerful or capable motor system! Can choose between Class 1, Class 2, or Class 3 configuration. 120Nm of torque at this power level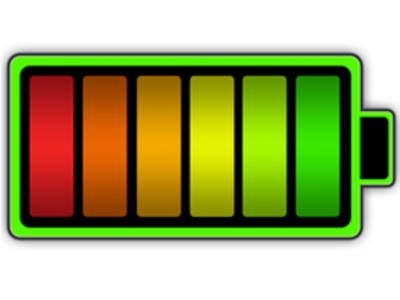 Battery: Choose the battery that suits your riding needs. If you are riding hills or off-road, your range will be less than quoted. Quoted range is in ideal conditions (170lb rider, paved road, 20mph). In the level 1 pedal assist, you can nearly triple your range!
48V, 673Wh, 30 mile range, Perfect blend of power/size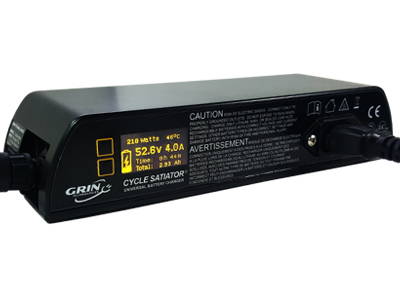 Charger: Choose the charger that suits your needs. The more powerful charger will charge your battery faster for less down time. For those wanting to keep their battery system to stay healthy longest, we recommend the Satiator upgrade.
Power: 2A. Charge time: ~6 hours (from 5% to 100%)
---
Power: 4A. Charge time: ~4 hours (from 5% to 100%). Most popular upgrade
---
Power: 6A. Charge time: ~2.5 hours (from 5% to 100%). Ideal for those who want the shortest charge time.
---
Power: 5A. Charge time: ~2.5 hours (from 5% to 100%). The Satiator is a remarkable charger that will make your battery stay healthy for longer. With very specific charging algorithms and the ability to float charge, your battery will stay in balance longer. This will increase your overall range and longevity of the pack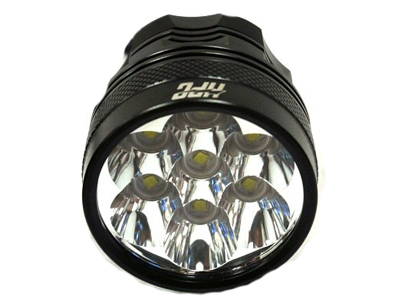 Lighting System: If you will be riding your bike at dark and if safety is the utmost importance, we highly recommend a quality lightning system. All of our headlights feature 3 power modes (low, medium, high) as well as a strobe function. The included Thunderbolt rear light is extremely bright to be sure you are seen at night! You will not find a brighter light!
Great choice for commuters or those occasionally riding at night. This is a super compact headlight that has surprising light output
---
Great choice for commuters who want ultimate visibility or those ride high speed at night (on or off road). This headlight has the highest light output and longest battery life.
---
Thanks!
This field is required
This field is required
This field is required